Hoopla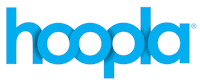 hoopla is a groundbreaking digital media service that allows you to borrow eBooks, movies, television, music, and more!
Borrow and stream up to 4 items per month.
Movies & TV: 3-day loan
Music: 7-day loan
Audiobooks: 21-day loan
eBooks: 21-day loan
eComics: 21-day loan
Titles are available all the time. No holds and no waiting--they are ready when you are!